Matrubhasha Diwas Celebration on 24th February.
---
REPORT ON CELEBRATION OF MATRIBHASA DIWAS
---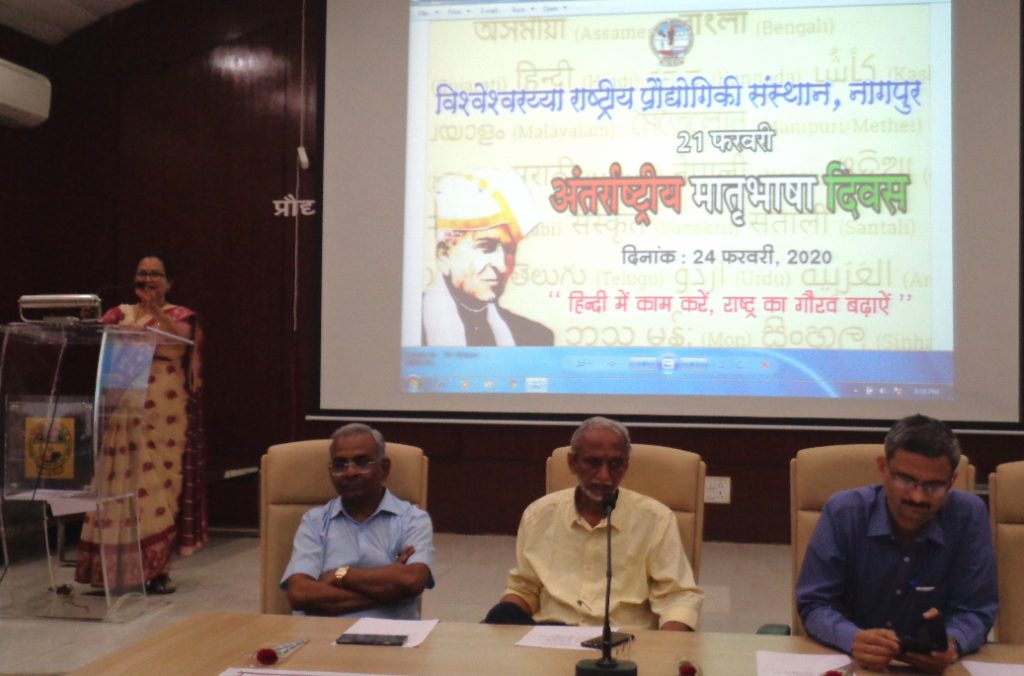 "If you talk to a man in a language he understands, that goes to his head. If you talk to him in his language, that goes to his heart."- Nelson Mandela
As per the O.M . No. F.No.8-41/2019/LII dated 13th February 2020 issued by the MHRD, New Delhi the Visvesvaraya National Institute of Technology celebrated the Matribhasa Diwas on 24th February 2020.
A devotional atmosphere prevailed as the programme started with lighting of lamp and recitation of 'Saraswati Vandana'.
Dr. P.M. Padole, Director of VNIT, Nagpur delivered a motivational and encouraging speech on the importance of mother language and sang a Marathi song. Dr. S.R. Sathe (Registrar), Dr. S.B. Thombre (Dean Academics), Dr. G.P Singh (Dean P & D), Dr. D.R Peshwe, (Dean Faculty Welfare), Dr. S.B. Borghate (Dean R & C), and Dr. Y.M Deshpande (HOD, Dept. of HSS) graced the occasion and actively participated in the event by singing songs and reciting poems. Misses Seema Naikwade and team performed a Sanskrit Drama on this occasion. Faculty members, Staff and Students of VNIT participated in the event. They performed various activities viz. poem recitation, drama, speech, and singing in their mother language. These activities were beneficial in understanding the diversity of languages in India and accomplishing the national integration.
Dr.B.R Mishra and Dr. Bharti Polke coordinated and organized the programme. The latter proposed a vote of thanks. The programme was concluded with the singing of National Anthem.
(Dr. Vibhutiranjan Mishra)                                                                 (Dr. Bharati Polke)