Report on "National Science Day" celebration 2019 under Rashtriya Avishakar Abhiyan
---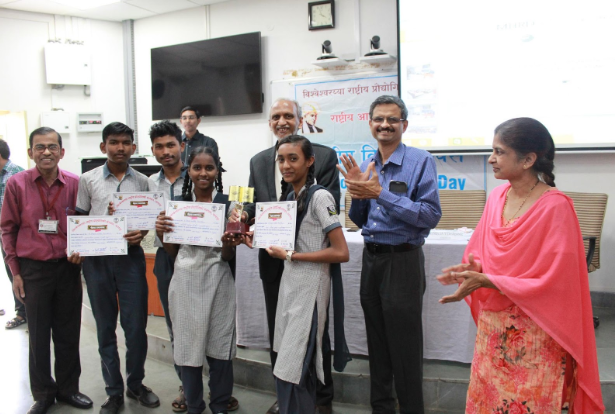 Director VNIT handed over a trophy to Winners from Barr.  Sheshrao Wankhede Vidyaniketan School – Second Position in Quiz
Director VNIT handed over a trophy to Winners from NMC Walmiki Nagar Hindi Madyamik School –First Position  in Quiz
National Science Day-2019 was celebrated at V.N. I.T Nagpur under the Rashtriya avishkar Abhiyaan of MHRD. On this occasion, a quiz competition was  organized at  V.N.I.T. Nagpur for students of  four NMC  schools and two ZP schools. The  aim of quiz competition was to widely spread a message about the significance of scientific applications in the daily life of the people and to discuss all the issues and implement new technologies for the development of the science.  V.N.I.T. Nagpur Students Mr. Rahul Bhagat    and  Mr. Akash conducted  quiz for the six teams represented by schools. Each Team  had four students. Teams from NMC Walmiki Nagar Hindi Madyamik School and Barr.  Sheshrao Wankhede Vidyaniketan School won first and second prizes respectively in the quiz.
In the second part of the National Science Day-2019  celebration, a prize distribution ceremony  was organized. Prof. P. M Padole, Director VNIT Nagpur and Prof. S.R. Sathe, Registrar, VNIT distributed prizes and certificates to the winners of the quiz competition and essay competition.  Deans, Heads and senior Faculty Members distributed participation certificates   to all the participants of  both the competitions.
In his speech, Prof. P. M . Padole motivated school students to develop Scientific attitude and logical thinking in the learning process. Prof. S.R. Sathe, in his speech said that one should try to create the natural curiosity about science in the students' mind  and one  can do so by connecting science to daily lives.  Dr. P. S. Kulkarni, Nodal officer has briefed the audience about the various activities conducted by VNIT Nagpur this year  under  the Rashtriya Avishkar Abhiyaan. Dr. A .V. Deshpande  Co-Nodal officer proposed a Vote of  Thanks.  Prof. D. R. Peshwe, Dean (Faculty Welfare), Prof. M. V. Aware, TEQIP Coordinator, Prof. V. B. Borghate, Dean (Research and Consultancy), Prof. B. S. Umre, Dean (Students' Welfare), Prof. (Mrs.) M.A. Chaudhary, Head, Electrical Engg. Dept., Prof. M.K. Khedkar, Prof. V. K. Deshpande, Prof. R . S. Gedam, Dr. M. R. Ramteke and Dr. P.C. Chaturvedi were prominently present.
It is to be mentioned here that under  Rashtriya Avishkar Abhiyaan, Mentoring Institute VNIT  organizes various activities throughout the year,  In 2018-19, VNIT organized four activities namely, 1. Orientation Meeting – Vidyarthi vigyan Manthan along with DST Vigyan Prasar, New Delhi during 4th -5th August 2018. 2. Visit of School Students to "Prof. Rajendra Singh Science Exploratory Nagpur during 11th -13th Dec. 2018. 3. Essay Competition for School Students on 12th January 2019 and 4. Quiz Competition on National Science Day (i.e. 28th Feb. 2019).   The activities were co-ordinated by  Dr. P. S. Kulkarni  Nodal officer,  Dr. A .V. Deshpande  Co- Nodal officer,  Prof. R . S. Gedam,  Prof.  J.D. Ekhe, Dr . P. Mahale, Dr. M. M. Dhabu and Dr. P.H . Ghare and their volunteers.  VNIT administration, Education officer, Head Masters and teachers of all  participating schools have extended their full support in organization of the activities.